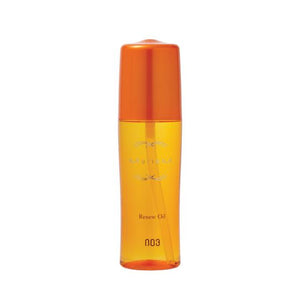 Muriem Gold Renew Oil is a thick and rich hair oil that deeply moisturizes hair. Highly moisturizing ingredients permeate the hair, creating strong and beautiful hair. Argan tree grows only in Morocco and only 1 liter of Argan oil can be derived from 100kg of Argan nuts. Renew oil contains plenty of this precious Argan oil.
Main Ingredients: Fullerene, Moringa seed oil, Argan oil and 18-MEA
Top notes: Cassis, Peach and Pear
Middle notes: Jasmine, Orange flower and Rose 
Last notes: Sandalwood, White musk and Amber cedar wood
How to use? 
Apply Renew Oil to damaged parts of the hair on towel-dried hair. Blow-dry the hair, at least 15cm away from the hair.