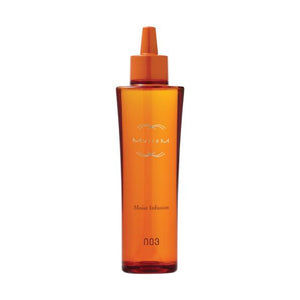 Muriem Gold Moist Infusion is a leave-in treatment and scalp essence that supplies moisture and leads your scalp to healthy condition. It takes care of scalp problems such as dryness, unpleasant smell and itches. By improving scalp environment, it promotes the growth of healthy and beautiful hair. 
Main Ingredients: Glucosylrutin, Fullerene, Functional hyaluronan and Argania spinosa sprout cell extract
Top notes: Cassis, Peach and Pear
Middle notes: Jasmine, Orange flower and Rose 
Last notes: Sandalwood, White musk and Amber cedar wood
How to use?
After towel dry, apply Moist Infusion to the scalp and spread well. Massage scalp using fingertips.