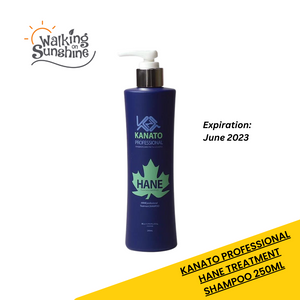 KANATO PROFESSIONAL HANE TREATMENT SHAMPOO 250ML - $33.00

Description

A 3-in-1 function hair shampoo that allows cleansing + treatment + scalp care
Recommended for dry scalp/hair and damaged hair.
Increases perm/dye retention and hair care.

Main Ingredients

Quebec water - rarely collected, supplies moisture, vitamins & minerals
Pyrenoids - preserves protein and moisture in hair
Licorice Extract

How to use?

Apply to damp hair before using shampoo. Massage onto lengths and ends. Leave in for 2-3 minutes and then rinse thoroughly.