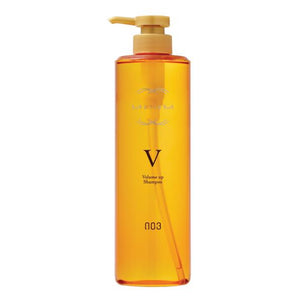 Muriem Gold Volume Up Shampoo creates and maintains supple bouncy hair. Paraben-free, sulphate-free and silicon-free.
Keratin PPT creates soft volume while repairing damage. 
Seaweed extract provides hair with mineral and moisture leading hair to supple natural feel to the touch with more body.
Fullerene has 200 times more antioxidative potency than vitamin C and will act on free radicals on the hair and scalp. 
Glucosylrutin blocks the bonding between protein and sugar, leading cuticles, inner hair and even scalp to youthful healthy state. 
Functional Hyaluronan has higher moisture retention than hyaluronic acid, hence firmly keeps moisture on the scalp. It acts on barrier function of the skin as well, leading the scalp to normal healthy state.
Top notes: Cassis, Peach and Pear
Middle notes: Jasmine, Orange flower and Rose 
Last notes: Sandalwood, White musk and Amber cedar wood
How to use? 
Apply shampoo to wet hair and massage scalp and hair using fingertips. Rinse the hair.