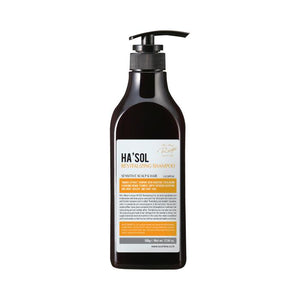 HA'SOL Revitalizing Shampoo exfoliates on dry-dehydrated scalp and hair without removing moisture, forms a scalp barrier to protect hair from environmental stress factors and smoothes the scalp. Balanced oil and water content and moisture nutrition supply leaves hair looking soft and silky all day. Best suited for those with sensitive scalp, rough and damaged hair.
Main ingredients: 
Lycopene

Tomato Extract

Beta + Glucan
Food & Drugs Safety and FDA approved:
No Parabens

No Mineral Oils

No Animal Raw Materials 

No Artificial Colorants 

No Synthetic Fragrances
How to use: Wet scalp and hair well with lukewarm water and create lather. Massage scalp for 2-3 minutes before rinsing thoroughly.