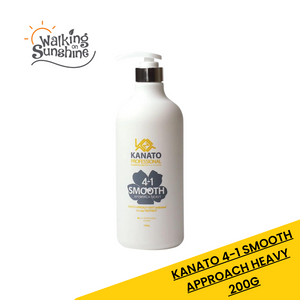 KANATO 4-1 SMOOTH APPROACH HEAVY 200G -

Description

Improves internal elasticity of the hair
Formation of a cuticle layer film
Prevents loss of active ingredients and gives hair softness.

Main Ingredients

Quebec water - rarely collected, supplies moisture, vitamins & minerals
Pyrenoids - preserves protein and moisture in hair
Avocado oil, Tocopherol and Meadow Foam Seed Oil

How to use?

Apply to damp hair before using shampoo. Massage onto lengths and ends. Leave in for 2-3 minutes and then rinse thoroughly.